IMMUNOPATHOLOGY
SARS-CoV-2
Understanding and informing
Andrés Finzi's specialty is viruses: the human immunodeficiency virus (HIV), in particular. In March, like many of his colleagues at the Research Centre, he shifted his activities to another virus: SRAS‑CoV‑2, responsible for the COVID‑19 pandemic. To date, no vaccination or medication exists to fight this disease. Faced with the urgent need to take action, the researcher rallied his team to take up the challenge.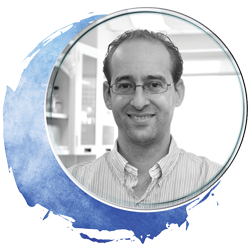 Unlike with HIV, virologists don't have much of a head start on this coronavirus. They know the Achilles' heel of this close relative to SARS, which struck in 2003: S glycoproteins. The virus uses these proteins as a sort of "key" to unlock the door of healthy cells, go inside and infect them. Andrés Finzi and his colleagues are working to better understand how this "key" works and how to modify it to make it inoperable.
His laboratory is also identifying molecules already used for other diseases that could block the mechanism used by this "key" to invade healthy cells. The aim of this approach is to more quickly develop an effective drug.
Today, to diagnose a person with COVID‑19, it is necessary to detect the presence of genetic material from the virus. These tests have their limitations: they cannot determine whether an individual has been infected by the virus in the past or whether they have been cured.
In close collaboration with Héma‑Québec, Andrés Finzi's team has developed serological tests that detect the presence of antibodies targeting the virus's "key." These should provide a more accurate picture of the progress of the epidemic in Quebec and identify individuals who have developed immunity to the virus and who could donate their plasma to treat infected patients.
The power of a voice
Another researcher in the Immunopathology research theme is also very busy, whether it's in her laboratory specializing in the study of respiratory viruses or in the public arena.
Nathalie Grandvaux, co‑founder of the Canadian Virology Society and the research theme director, is working with her team to identify the cellular mechanisms that promote an appropriate antiviral response and those that will prevent the body from having a dysregulated immune response to infection, with the risk of triggering a cytokine storm. Caused by an out‑of‑control immune system, this wave of inflammation destroys everything on its path, infected and healthy cells alike.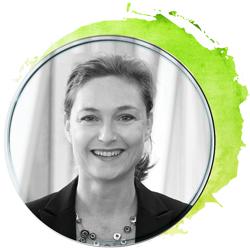 Nathalie Grandvaux's expertise is a rare asset. The Fonds de recherche du Québec knew what they were doing when they created the Quebec COVID Network, appointing her as its co‑director. She and her colleagues will coordinate research efforts on the provincial level in order to accelerate discoveries and be better prepared to deal with the next pandemic.
In the face of misinformation and fake news, the research centre is committed to providing the public with validated scientific facts and evidence-based data. This collective duty is also an individual responsibility shared by many researchers.
Nathalie Grandvaux's voice cut through the deep darkness of the pandemic. Not a whisper, but rather a strong and reassuring voice that made its way to the ears of the public.
Time and again, in the national media, in discussion panels with citizens or in meetings with schoolchildren, her messages, with their clear, accessible language, managed to convince Canadians.
Her words reminded all those who had their doubts that science needs to engage in a continuous, long‑term dialogue with civil society.
Working in the enlightening darkness
The study of infectious diseases cannot take place in an ordinary work setting. At the Research Centre, research teams have access to a biosafety level 3 (BSL3) laboratory to safely handle certain types of viruses and other pathogenic agents.
Olfa Debbeche manages this high‑tech infrastructure. She plays an essential role in training staff in good laboratory practices and biosafety standards, and supervising BSL3 users, among other things.
This former postdoctoral researcher in Andrés Finzi's laboratory has daily contact with the teams of the immunopathology research theme, which helps her understand the scope of the research projects in progress, allowing her to support them appropriately and contribute to the advancement of basic research.
With the arrival of SARS‑CoV‑2, "daring to look beyond the horizon" often begins in the BSL3, a world of pathogens where she plays an active role and is present at all times, pandemic or not.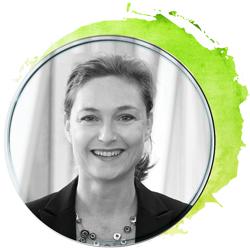 Nathalie Grandvaux
Research Theme Leader