CARDIOMETABOLICS
OBESITY AND DIABETES
Targeting fat cells
Yves Mugabo inherited his scientific curiosity from his father, a Rwandan epidemiologist whom he accompanied on his travels when he was young. This man paved the way for his son, who is now a postdoctoral researcher.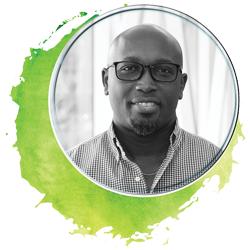 It's no coincidence that he has always been inspired by the scientist Marie Curie, who once said, "We must believe that we are gifted for something, and that this thing, at whatever cost, must be attained." In this regard, the researcher's determination and excellent work have certainly paid off.
In 2019, chosen from among 200 applicants, he won one of the prestigious Banting Postdoctoral Fellowships awarded by the Canadian Institutes of Health Research, which encouraged him to continue his promising research work to identify therapeutic targets for treating obesity, type 2 diabetes and other cardiometabolic diseases.
The potential benefits are considerable. In Canada, nearly 25% of the population is overweight or obese, and poor dietary habits or lack of physical exercise are not always the cause. The reality is more complex.
A Unique Approach
Although obesity is a known risk factor in type 2 diabetes and heart disease, no treatment allows a person to maintain long‑term weight loss, nor is there any treatment directly targeting obesity.
Up to now, research has instead focused on the development of treatments for type 2 diabetes.
In this regard, Yves Mugabo and his research director Gareth E. Lim, Canada Research Chair in Adipocyte Development, have chosen a radically different approach.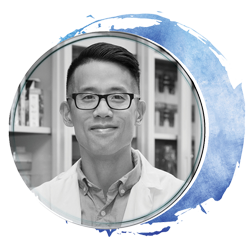 For them, the scientific adventure starts at the level of fat cells, or adipocytes, which play a key role in obesity.
In their laboratory, they try to better understand how these cells develop, grow and form fat mass. They discovered, for example, that the scaffolding protein 14‑3‑3zeta, plays a crucial role in the growth of fat cells.
Although their advances are still at the basic research stage, decoding the workings of this protein and finding ways to target it could lead to treatments for obesity, and, indirectly, reduce the risk of developing type 2 diabetes.
For Gareth E. Lim, working with Yves Mugabo is an enriching experience. "His knowledge, scientific curiosity and ability to apply new ideas generated from our scientific discussions to his experiments have already allowed us to make interesting discoveries."
Lim is not the only one to praise his colleague's talent. At the Next Einstein Forum held in 2018, Yves Mugabo was chosen as one of the best young African scientists, a recognition that he is proud of and that today allows him to give back to his continent of birth by working with political decision makers, manufacturing companies and governments. He, in turn, intends to inspire young African scientists and facilitate their emergence on the international scene.
To your connected health!
One in five Quebecers over the age of 40 will, in their lifetime, have to deal with heart failure, one of the most common causes of hospitalization in the country. Faced with the difficulty of continuing with complex health care once they return home, many patients, who are often diabetic as well, have to be readmitted to the hospital.
With his Continuum project, Dr. François Tournoux, a researcher and cardiologist at the CHUM, is encouraging them to continue their treatment at home through a digital application.
Developed by the CRCHUM and its partners Boehringer Ingelheim, Greybox Solutions and MEDTEQ, this technology will allow patients to play a more active role in their health care management and will reduce the number of hospital readmissions.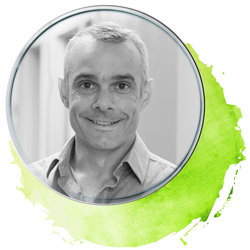 Thierry Alquier
Research Theme Leader