The University of Montreal Hospital Research Centre (CRCHUM) is the Université de Montréal's largest biomedical and health care science research centre and one of the largest and modern in all of Canada. Here, basic, clinical and population health research are carried out side-by-side under one roof.
The Fonds de recherche du Québec—Santé, the provincial body responsible for funding our research facilities, gave an "exceptional" rating to our research centre following its 2019 evaluation, confirming our position as a major Canadian research institution. This position of influence is the result of all the people at the CRCHUM whose commitment, work and creativity allow us to generate and transform knowledge, making a difference in patients' lives.
Producing internationally renowned scientific research work, the CRCHUM's research is rooted in its community and provides a dynamic environment for future researchers who will become the trailblazers of the research scene of tomorrow. Participating in all the CHUM's hospital activities, our teams can count on competitive facilities in their effort to improve the health of Quebec's adult population.
Every day, the Fondation du CHUM supports the CRCHUM, participates in funding state-of-the-art equipment and helps train the next generation of top scientists and transmit the centre's unique knowledge.
A global leader in the improvement of health care and services and the patient experience, our centre conducts research covering six themes and provides care and intervention solutions to the entire population.
AREAS OF EXCELLENCE
CANCER
Major pathologies
Breasts, ovaries
Prostate
Lung
Health care and intervention solutions
Personalized medicine
Combination therapies
Immunotherapy
Cell therapy
CARDIOMETABOLIC
Major pathologies
Types 2 diabetes and its complication
Hypertension
Neural processes and nutrition
Health care and intervention solutions
Precision medicine
Precision imaging
Prevention programs
IMMUNOPATHOLOGY
Major pathologies
Transplantation
Different types of hepatitis
HIV
Autoimmune diseases
Osteoarthritis
Health care and intervention solutions
Increase in organ donations
Vaccines
Precision imaging
Immunotherapy
NEUROSCIENCE
Major pathologies
Multiple sclerosis
Epilepsy
Neurodegenerative diseases
Stroke
Addiction / mental health
Health care and intervention solutions
Early diagnosis
Immunotherapy
Improving the care trajectory
CROSS-CUTTING AREAS OF EXCELLENCE
IMAGING AND ENGINEERING
Virtual and augmented reality for analyzing and improving human movement or computer‑assisted surgery
3D printing for radiation oncology treatments
3D tissue printing
Artificial intelligence
HEALTH INNOVATION AND EVALUATION HUB
Center for the integration and analysis of medical data (CITADEL)
At the CRCHUM, the commercialization of knowledge is a priority activity. Our teams harness knowledge and identify research results that come to fruition in the form of innovations benefiting patients and the health care system.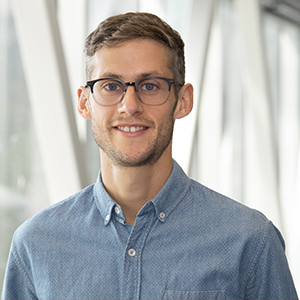 Ciaran Murphy-Royal
Le jour de la marmotte
La pandémie a un peu pris l'allure du film éponyme pour Ciaran Murphy-Royal, chercheur régulier de l'axe Cardiométabolique. Arrivé au Centre de recherche en juin 2020 depuis Calgary, c'était inévitable : il devait concentrer une grande partie de ses efforts au démarrage de son laboratoire. Jour après jour, une routine à observer.
Dans cette étape importante, il a pu compter sur l'aide précieuse de son équipe : une étudiante en maîtrise et un doctorant. Deux personnes sur lesquelles il a dû veiller un peu plus que d'habitude étant donné le contexte sanitaire.
« Même s'ils ont été assez isolés de leurs familles en Alberta ou en Suisse, ils s'en sortent plutôt bien. C'est sûr que j'ai été plus attentif à ce qu'ils vivaient et j'ai appris à être plus patient. Pour qu'ils restent motivés pendant cette période incertaine, je suis resté positif et leur ai fixé des objectifs et des échéanciers précis. L'idée derrière tout ça? Mettre en route le labo est un effort collectif et, ensemble, nous allons y arriver », explique-t-il.
De son côté, Ciaran Murphy-Royal, chercheur indépendant en début de carrière, rappelle qu'il a pu lui-même compter sur le soutien de collègues plus expérimentés comme Thierry Alquier, Stephanie Fulton ou Gareth Lim. Le passage de témoins entre générations de scientifiques opère bien, semble-t-il.
Le chercheur n'a pas hésité non plus à laisser à ses étudiants du temps libre pour réviser leurs examens pendant que lui s'occupait des expérimentations en laboratoire. Une façon de les soutenir moralement dans ces moments délicats.
« Tout l'aspect "fun" de travailler au labo est actuellement réduit au minimum pour nos étudiants : pas de conférences, pas de réseautage, pas de rassemblement à la cafétéria. C'est temporaire alors je ne manque pas de leur rappeler que des temps meilleurs s'en viennent. »