They work among us. The research teams call upon their expertise every day. Discreet, indispensable cogs in the research centre's activities, working far from the media spotlight. Without them, the CHUM Research Center's (CRCHUM) heart would stop beating! Spotlight on five employees in the management team during the COVID‑19 pandemic.
Patients: the number one concern
In March 2020, clinical research began feeling the impact of the pandemic. Patient recruitment had to be paused and the functioning of clinical trials had to be reimagined.
Josée Leclerc, the senior manager of the research clinic, and her colleague Claudette Boily, the clinic's senior coordinator, were on the front lines. Reinventing themselves at work to avoid slowing down research became a recurring pattern to them.
"Our research teams had to adapt to the health restrictions, along with the hospital services called upon when carrying out research projects. Even though COVID‑19 projects were prioritized, research activities considered essential had to be maintained for projects for which treatment interruption would jeopardize patients' immediate health or safety. For example, patients already receiving treatment protocols in oncology had to continue to receive their treatments‑COVID‑19 or not," explained Josée Leclerc.
As Claudette Boily recalled, "We continued to evaluate research projects so that our teams could gradually resume clinical activities following the easing of lockdown measures and the recommendations of the Public Health Department."
The crisis forced everyone to rethink the way they worked. New ways of doing things emerged, such as home delivery of medication, alternative methods of obtaining consent and the implementation of remote clinical follow-up visits (by phone or videoconference).
In addition, to limit access to the facilities, a secure connection system giving remote access to project data was implemented to allow external auditors to ensure the quality of the different protocols. A major advance that should remain as a post-pandemic practice.
These initiatives led to our two associates being invited by the Table Nationale des Directeurs de Recherche to participate in task forces on consent and remote monitoring in a pandemic context.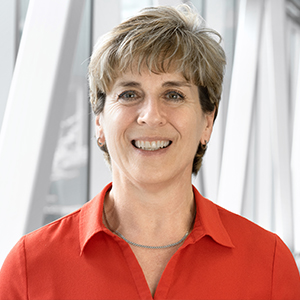 Josée Leclerc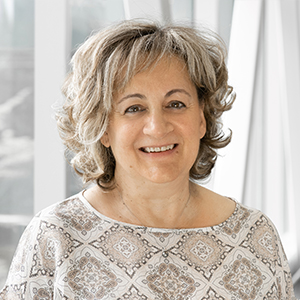 Claudette Boily
For the well-being of animals
Considered an essential service, the CRCHUM's animal facility, which provides care to research animals and ensures their safety and welfare, continued its activities throughout the pandemic. Through thick and thin, a team of some thirty employees stood together, with Hélène Héon, veterinarian and department head, at their helm.
"The first month was pretty tough going," she recalled, emotionally. "After the initial shock, we had to reorganize the work of the animal facility, put prevention measures in place and continue our activities despite limited supplies of protective equipment and disinfectant, indispensable for our services. In this very special early-pandemic context, we had to focus on the care and welfare of the animals and on the needs of our staff so that we could work safely."
Physical distancing, new hygiene procedures and indications for directional flow through the premises were among the arrangements that quickly became part of the routine of the animal facility staff.
There's nothing surprising about the team's willingness to adapt. Thorough compliance with hygiene procedures was always essential in the animal facility to avoid contaminating the environment with pathogens and skewing research results.
To maintain care quality, Hélène Héon and her team took a close look at the way their department operated and checked to see if it was possible to optimize it, given the circumstances. According to Héon, "After an in-depth analysis of different catastrophic scenarios, we realized that our procedures were efficient and that we were already working in optimal conditions. That's good quality control!"
It is true that the CRCHUM holds a Certificate of Good Animal Practice from the Canadian Council on Animal Care, a national organization responsible for the development, implementation and oversight of high standards for animal ethics and care in science in Canada.
Her biggest worry was that the laundromat which was responsible for cleaning the rodent cages would be forced to stop its activities due to a case of COVID‑19 among its staff, which would result in the temporary shutdown of the animal facility.
Fortunately, neither the animal facility nor the research experienced any down time. As for the animals, they benefited from the ever-attentive and devoted care of a strong team where mutual assistance took precedence in spite of their fatigue.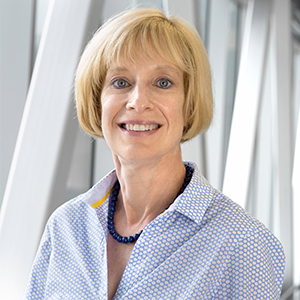 Hélène Héon
Biosafety above all
Despite a very difficult health context, Laurent Knafo, occupational health and safety advisor and biosafety officer, maintained his routine even in troubled times: coming to work every day, like a beacon of light in the darkness of the pandemic, for all the research teams—those that switched to COVID‑19 research in March 2020 and the rest.
Helping the CRCHUM research community move forward with their projects is what drives him every day. He became even more dedicated after seeing the research teams mobilize so quickly to participate in the fight against COVID‑19.
One of his biggest projects resulted in his obtaining certification from Health Canada for the biosafety level 3 (BSL3) laboratory to grow and handle SARS‑CoV‑2, the virus responsible for the COVID‑19 pandemic and its variants. The project was a laborious process that he managed to complete in four months thanks to the participation of Honeywell, the Research Centre's partner in charge of maintenance activities.
Adapting protective measures, completely reviewing the laboratory's safety manual and emergency procedures in collaboration with Health Canada and the CHUM and assessing the risks of new research projects are some of the tasks that occupied Laurent Knafo during the weeks he worked on the BSL3 certification process.
"My biggest worry was that our Research Centre would close due to an outbreak, even though I knew that strict health measures were in place. I think that, due to the pandemic, people are more aware of my role," he said.
At the peak of the pandemic, he was able to count on the support of his colleagues in the Canadian Biosafety Officer Network. This involved sharing advice, protocols and good practices. As a result, he can now confirm that this health crisis has prepared us well for the next one.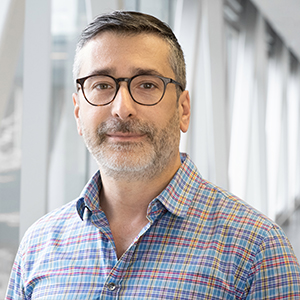 Laurent Knafo
Remote work, a friend that wants the best for you
For over a year, a third of the employed Canadian population has been working remotely. Productive from their home offices, most teleworkers expect to adopt this way of experiencing work once the pandemic is under control.
According to Christine Bellefeuille, senior human resources advisor, "The pandemic will be seen as a break between what people did before—which they took for granted—and what they do now! Despite its known limitations, such as professional and social isolation, remote work will become the norm. Accommodations in terms of schedule flexibility and work-life balance will have to be made."
At the CRCHUM, the Department of Human Resources demonstrated resilience and supported managers, reassuring them of their employees' ability to self-manage. "As long as there's respect, the ability to listen, empathy and good customer service, it works—even at a distance!"
And empathy and compassion were qualities sorely needed by the HR team, who guided and supported grieving members of the big CRCHUM community with their different procedures. Beyond the numbers announced daily by the media, the deaths have a familiar face.
"Having research recognized as an essential activity is an excellent thing. Its prominence in the advancement of knowledge over the last year is also beneficial, particularly when it comes to recruiting the next generation of researchers."
Pandemic or not, life goes on—but differently.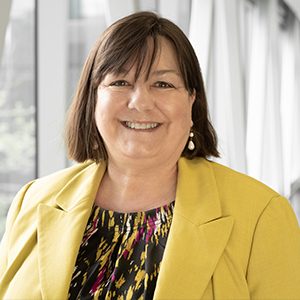 Christine Bellefeuille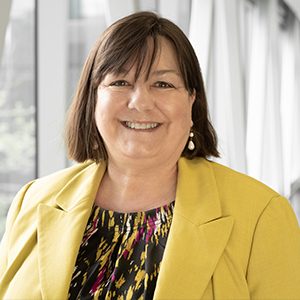 Christine Bellefeuille
Télétravail, un ami qui vous veut du bien
Depuis plus d'un an, le tiers de la population active canadienne est en télétravail. Productifs depuis leur domicile, la majorité des télétravailleurs entend bien adopter cette façon de vivre le travail une fois la pandémie maîtrisée.
« La pandémie sera vécue comme une cassure, rappelle Christine Bellefeuille, conseillère senior en ressources humaines. Entre ce qui se faisait avant et aujourd'hui, ce que l'on prenait pour acquis! Malgré ses limites connues comme l'isolement professionnel et social, le télétravail va devenir la norme. Des aménagements en matière de flexibilité des horaires et de la conciliation travail-vie personnelle sont bien sûr à prévoir. »
Au CRCHUM, l'équipe des ressources humaines a fait preuve de résilience et a su accompagner les gestionnaires et les rassurer sur la capacité de leurs employés à s'autogérer. « Tant qu'il y a du respect, de l'écoute, de l'empathie et un bon service à la clientèle, cela fonctionne. Même à distance! »
Et, de l'empathie et de la compassion, il en a fallu à l'équipe RH qui a su guider et soutenir dans leurs démarches des membres endeuillés de la grande communauté du CRCHUM. Au-delà de la suite de chiffres quotidiens annoncés par les médias, les décès ont un visage familier.
« La reconnaissance de la recherche comme une activité essentielle est une excellente chose. Sa mise à l'avant-plan dans l'avancement des connaissances pendant plus d'un an aussi, notamment pour le recrutement de la relève. »
Avec ou sans pandémie, la vie continue. Différemment.